Kids in Glass Houses
Feb 23
[video]
Feb 21
[video]
'Diamond Days' official video premiere on MUZU TV!
As we posted yesterday, KIDS IN GLASS HOUSES have filmed a new video for the track 'Diamond Days', taken from their latest album 'In Gold Blood'. Well ladies and gents, the video is now available for you to watch and can be viewed below or exclusively over on MUZU TV, by clicking this link. Check it out and let us know what you think!



Kids In Glass Houses - Diamond Days on MUZU

The 'Diamond Days' EP featuring 3 live tracks is out on the 18th of March - click here to pre-order your copy.
Jan 17
KIDS IN GLASS HOUSES JAPANESE TOUR GIVE AWAYS!
This week KIDS IN GLASS HOUSES embark on a tour of Japan with their friends Zebrahead. If you attend the show and buy an 'In Gold Blood', album you will automatically receive an MP3 download voucher to get free live versions of 'Animals' and 'Gold Blood'. See you there, Japan!
Jan 06
Animals -  Staffordshire, England - 18.06.11
LOVEMUSICLOVEFOOD: THE ROCK STAR COOK BOOK…
LoveMusicLoveFood: The Rock Star Cookbook, is the brainchild of renowned food photographer Patrice De Villiers. Supported by celebrated music journalist Andrew Harrison and rock 'n roll cook Sarah Muir it is a book that features over 60 musicians. Incorporating portraits of musicians with their favourite foods, each accompanied by a unique personalised recipe and exclusive interview, it is a project in aid of Teenage Cancer Trust.

So in choosing their favourite food, KIDS IN GLASS HOUSES frontman Aled Phillips championed Sushi, why exactly? As he puts it "Short of open-mouth fishing there's nothing like sushi, is there? Healthy, good to share and it feels nice in the mouth. When we went to Japan, our label took us out to a very traditional restaurant, which was the first time I ate jellyfish. I can absolutely recommend it. The entire experience is really heightened in Japan."

Why do rock bands love sushi so much? Well as Aled put it, it's simple "Because we're self-important and we think it's dignified and gives us a sense of culture in the moral abyss that is the rock n' roll world".

LoveMusicLoveFood: The Rock Star Cookbook is available now at www.lovemusiclovefood.org.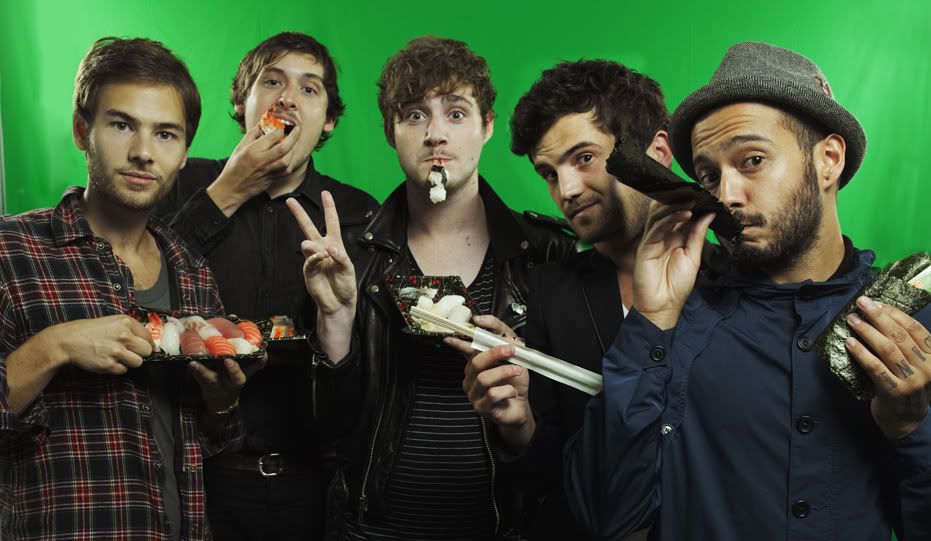 Jan 04
our first headline show of 2012. 

Hit The Desk Festival - 
Nottingham - 
April 22nd 2012 - 
http://www.hitthedeckfestival.com/
Kings Cross St. Pancras - London, England - 20.07.11
Jan 03
Somewhere En Route - Nuremburg - 04.06.11
Jan 02
Cardiff - 01.06.11